There comes the point when the eldest of our loved ones would need added care and attention in their life. Unfortunately, choosing the best option for them can be quite challenging if you don't know the difference between a nursing home and assisted living.
Allow us to help you out. We'll discuss various factors that distinguish the difference between assisted living and nursing homes, such as the types of care services they provide, the number and types of residents they cater to, and their costs are.
Losing One's Independence
In his book, Being Mortal: Medicine and What Matters in the End, Dr. Atul Gawande mentioned the factors that can help you decide when to move a loved one to either a nursing home or an assisted living community.
According to Dr. Gawande, there are eight "Independent Activities of Daily Living." These are shopping, cooking, housekeeping, laundry, managing medications, making phone calls, traveling, and handling personal finances. If a person loses the capacity to do one or all of these tasks independently, then it's a sign that they have lost the ability to live safely on their own.
There are eight "Activities of Daily Living," as well. These are using the toilet, eating, dressing, bathing, grooming, getting out of bed, getting out of a chair, and walking. If a person loses the capacity to do one or all of these tasks independently, they have sadly lost basic physical independence.
Keep these in mind as you're choosing between assisted living and nursing home care.
By Definition, What Is the Difference Between Assisted Living and Nursing Home?
Assisted living and nursing home are two terms commonly used interchangeably. Except for that, both cater to the sick and the elderly, and these two have little in common.
An assisted living facility or ALF is a residential community for senior citizens who might need support for some of the daily activities mentioned above, like bathing or grooming, but can still do most of them. For instance, some assisted living facilities require prospective applicants to eat independently or walk around without assistance.
ALFs are known for their higher satisfaction rates compared to nursing homes and other senior living options. That's probably due to the social, active lifestyle assisted living presents, and the keyword here is community.
According to the National Institute of Aging, ALFs offer long-term housing options in separate living spaces with shared common areas. This provides residents the same privacy and feel of independent living. Still, they enjoy the support of certified staff attending to their specific needs and the company of other residents.
Meanwhile, nursing homes, also sometimes referred to as skilled nursing facilities (or SNFs), tend to focus more on medical assistance over the semblance of independence. In a nutshell, they are long-term residential and health facilities for those who need round-the-clock care.
There are skilled nursing facilities known for their expertise in caring for more critical cases like terminal illness, late-stage Alzheimer's, and similar conditions. What sets SNFs apart from ALFs is their on-site medical care, ready to provide the specialized type of care as needed一a perk that only they can provide.
That means that nursing homes are not designed for seniors alone but also for people with chronic ailments, disabilities, injuries, and more. According to recent statistics, only 84% of nursing home residents are over 65 years old.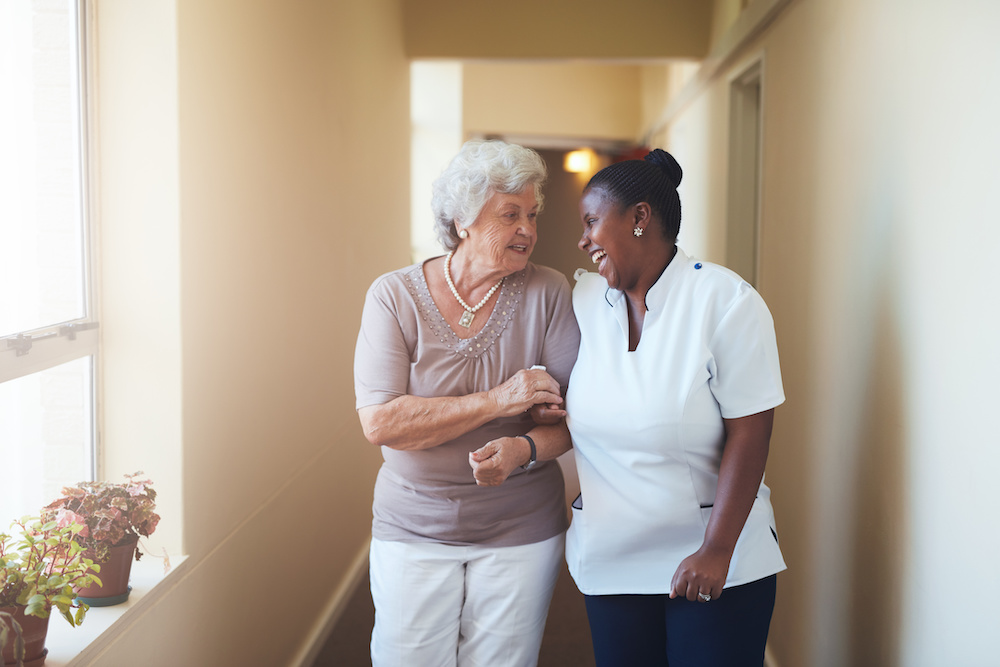 Difference Between Nursing Home and Assisted Living
To further help you make a more thoughtful decision, below are the factors that you should consider when choosing between a nursing home or assisted living facility for your loved one.
Types of Care Services
One of the benefits of living in an ALF is the range of services they provide. Most offer personal care assistance, medication management, administration, food services, housekeeping, laundry, transportation, and security. They also provide a lot of recreational activities and events regularly.
Meanwhile, a nursing home also offers personal care assistance, medication management and administration, and other services provided by ALFs. There are three main differences.
First, nursing homes offer specific medical treatments, which can vary depending on your chosen facility. Next, most nursing homes don't provide non-medical transportation. Finally, they only provide a limited number of recreational activities per month.
Living Space
As mentioned, assisted living facilities provide private residential spaces that recreate the experience of independent living. They can come in the form of private apartments or studios.
Those who want to minimize costs or enjoy constant companionship can opt to share their space with another person. Most of their units feel like a complete home with amenities like a receiving area or a kitchen.
ALFs are also known for their extensive common areas and outside grounds. On the contrary, nursing home living spaces tend to be smaller and more confined, and the amenities can be pretty limited.
While you still have an option to either enjoy a private or shared room, most nursing homes don't have many common areas or outside grounds for one to roam around. They don't expect their residents to be as mobile as those in ALFs, after all.
Number and Types of Residents
Speaking of residents, assisted living facilities have an average of 50 occupants. Although, there are more exclusive facilities that home as few as five residents and bigger communities that accommodate as many as 300 residents. ALFs are great for seniors who are still mobile and quite independent.
On the other hand, while the size of facilities varies, most nursing homes accommodate an average of 100 occupants. A nursing home is best for seniors with limited mobility and cognitive impairments, especially those who require closer medical attention and personal care.
Length of Stay
According to a recent report by the American Health Care Association, most residents stay in an assisted living facility for an average of 22 months. Most of their residents will then transition to a nursing home or a skilled nursing facility later on. Another report by the National Care Planning Council has determined that the average length of stay in nursing homes is 835 days or roughly 28 months.
Costs
In terms of assisted living vs. nursing home costs, ALFs have an average cost of $4,000 per month, while nursing homes have an average of $7,400. The steep price difference has a lot to do with the amount of personal care and medical attention provided at a nursing home compared to an assisted living facility.
Most residents of assisted living facilities pay for their services out-of-pocket. However, there are ways to receive financial assistance through pension plans and Medicaid.
Meanwhile, most nursing home residents pay for their services through Medicaid. Be sure to look into Medicaid's eligibility requirements to make sure your loved one qualifies for this type of coverage.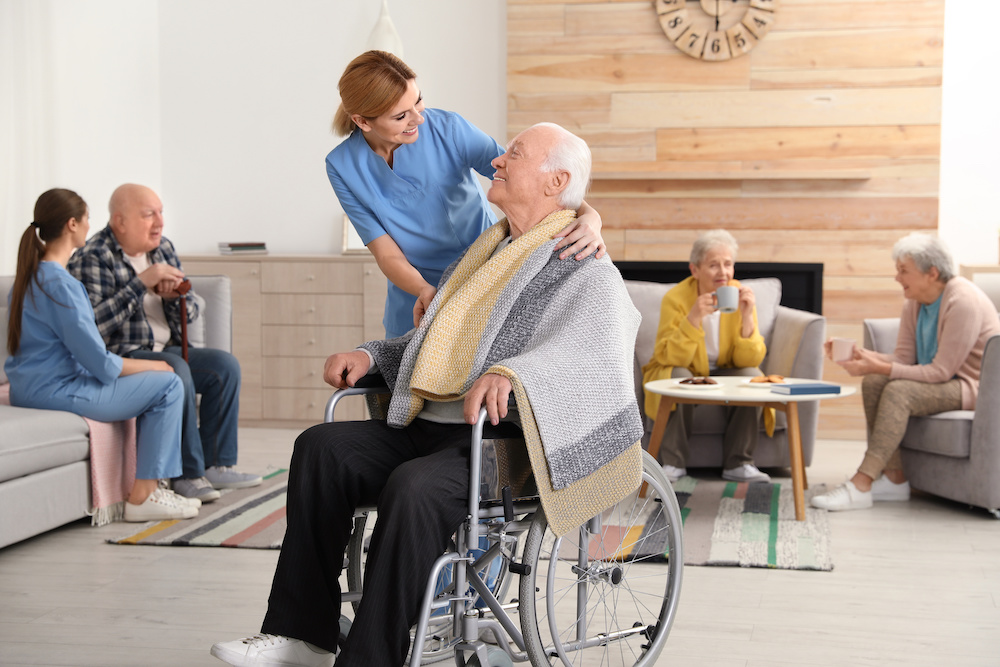 Nursing Home and Assisted Living FAQs
Is Assisted Living Cheaper Than a Nursing Home?
As mentioned, the cost of living in a nursing home is roughly double the amount of living in an assisted living facility. That said, prices can still vary according to the resident's additional needs, preferred size of living space, and available amenities.
Is Assisted Living Better Than a Nursing Home?
Many seniors prefer assisted living over a nursing home, but that doesn't necessarily mean better. In the end, it will all boil down to your loved one's needs.
For instance, if your loved one can still care for themselves but needs minimal assistance in medicine management, they would enjoy the company of other energetic elderly in an ALF.
On the other hand, if your loved one already faces mobility and cognitive functioning challenges, then the added level of care and attention given by a nursing home will prove preferable.
Does Medicare Pay for Nursing Home or Assisted Living?
As you can see, although there's a difference between assisted living vs. nursing home costs, both are still expensive. Thus, Medicare will be of great help.
According to Medicare's website, they generally don't cover long-term custodial care in an assisted living facility or a nursing home. They cover some of your needs and expenses during your stay, including doctor fees, medical supplies, and more under their Part A program. However, they do cover care provided by a skilled nursing facility.
Need more assistance or information? We highly recommend checking out the Administration for Community Living website. It offers more resources about long-term care and financial aid in the U.S.A.
When Should You Go To a Nursing Home?
You can refer to the two categories of activities of daily living that we've shared with you above and use them as a checklist to determine whether it's time for your loved one to transition to a nursing home.
Aside from those, though, here are other tell-tale signs that moving to a care facility is imminent and essential to keep your senior loved ones safe:
Increased Frequency of Falls. According to the National Health Interview Survey, falls account for the majority of injuries and disabilities that befall seniors. The potential risks that a bad fall can cause are so severe that it can significantly alter one's physical and psychological state after just one occurrence.
It is only natural for a person's coordination and balance to weaken as he ages, but Dr. Gawande names one more culprit: the state of your loved one's feet. According to the journal Nursing Open, nail disorders resulting from inadequate foot hygiene can impact mobility and increase falling risk.
Housekeeping Issues. Is food going bad in the fridge? Do you constantly find laundry forgotten in the washer wasting away with mold? These are signs that your loved one's cognitive functions are already declining.
Prescription Issues. Your loved one's medications should only run out when they should. If it's consistently running out too late or too soon, then it's a good sign that this senior is not capable of managing his medications independently anymore.
When Should an Elderly Person Go To Assisted Living?
But what if your loved one is still capable of doing a lot on their own? Should you wait until they transition to a nursing home, or should you consider assisted living options already?
That depends. Does your loved one live alone? Do they need more opportunities to socialize, especially with other people his age?
Will they benefit from regular housekeeping services or hassle-free dining options? Have you noticed your relationships becoming strained due to a lack of autonomy or privacy from each other?
If you have answered yes to any of the questions above, it's probably a great time to consider available ALF options.
Whichever option you choose, remember that it is entirely normal to feel guilt or grief when an elderly loved one transition to an assisted living facility, nursing home, or other similar long-term care institutions.
It is also essential to keep in mind that the best for your loved ones may not always be what they want for themselves. Hence, it is crucial to explore as many options as you can, and that will help you find a middle ground that will make both you and your loved one happy and healthy.
Final Thoughts
We all want what's suitable for our loved ones. However, we acknowledge that it can be challenging to determine what's best for them when you can't even distinguish the available long-term care services from each other.
Nursing homes and assisted living facilities are just two of the commonly confused terms in the subject. Assisted living facilities are residential communities for the elderly who want to experience the joys of maintenance-free (mostly) independent living.
Nursing homes, on the other hand, are facilities that provide advanced personal and medical care. They are great for our loved ones who are not capable of caring for themselves anymore.
In the end, it's best to consider what your options are in advance. The last thing you want is to feel pressured and emotionally overwhelmed when you are forced to make this decision later on after a medical crisis has already happened.